Your caregiver stats let you know how you're doing on UrbanSitter and serve to help you stay on top of your bookings and messages. Stats are private from families or other caregivers. Aim for Excellent ratings in each stat category to be at the top of family search results. The better your stats, the more likely you are to get booked.
Look for your stats on the homepage under Your Stats - Last 90 Days.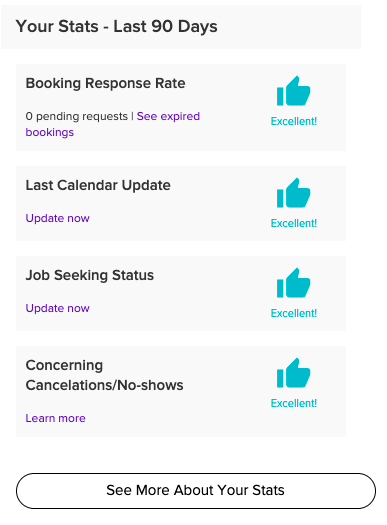 Booking response rate
Keep up your booking response rate by responding to new job and interview requests quickly and making sure to accept or decline each one. Don't let booking requests expire without communicating with the family. If you decline, you can always send a polite message to the family to keep you in mind for future jobs. Filter your Bookings page by expired to see expired booking requests.


Last calendar update
Make sure to keep your calendar up-to-date so families know when you're available and can book you. Add availability when you're available to work and remove any availability when you're no longer available. We recommend updating your calendar (at least) once a week if you're actively looking for jobs.


Job seeking status
Your job seeking status (the "looking for" section of your profile) is key to giving families a snapshot of your availability such as for part or full-time jobs. Update it regularly to make sure you're appearing in search results for new caregivers and you don't miss out on job requests.


Concerning cancelations/No-shows
Bookings with cancelation or no show concerns will be counted here. Reliability is super important when it comes to being a professional, responsible caregiver. If you must cancel, cancel with as much advance notice as possible. Last-minute cancellations and no shows are reviewed by our team and are marked as concerning. Action may be taken on your account if you show a habit of unreliability. Please review and be familiar with our Reliability Policy.