When a parent wants to book you for a job, they will either send you a booking or interview request and you will be notified on the site as well as by email, text, or app notification depending on your settings. Parents search for sitters in their area who are available for a certain date & time or commitment, so make sure to keep your availability updated on your sitter calendar and profile!
You can view your new booking request under the 'Bookings' tab filtered by type: 'Active Bookings'. Click the green text to view the details of the job- yay!

On the Booking Details page you will be able to see the date and time of the job, parent's name, any social connections you might have, the job details (including number of children, rate, payment method, and job tasks), and the parent's message to you.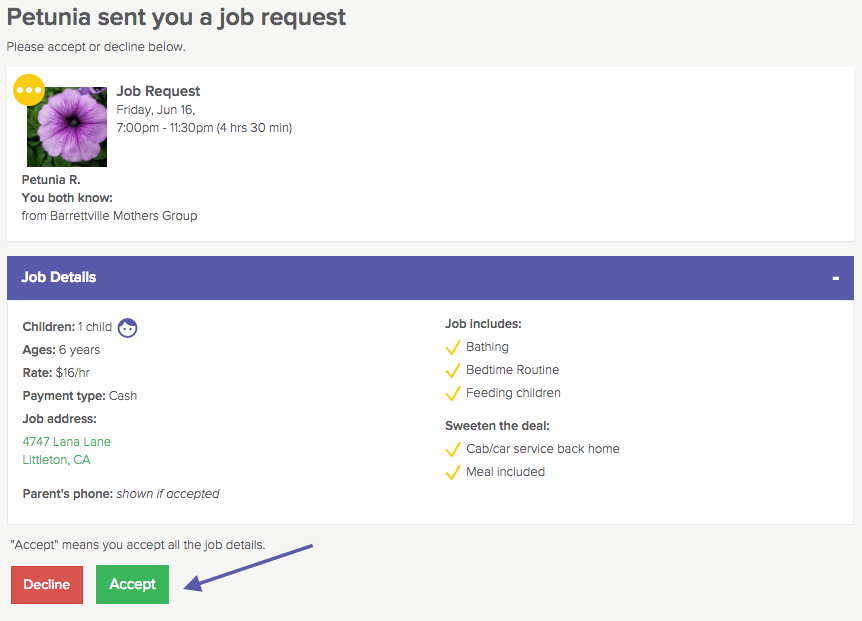 If you're available for the job and it's the right fit for you, click 'Accept'! If not, you can click 'Decline' and send a polite message back to the parent. Once you've accepted or declined the job, the parent will be notified and you will be able to message the parent. Please note that when clicking 'Accept' you accept all the job details, including rate and payment method, as you cannot negotiate the original booking terms after accepting.
For tips on the job, check out our Tips for Sitters on the Job FAQ. Click here to learn more about sitter payments, and click here to view our Reliability and Cancellation Policy regarding bookings.