We share a deep concern for the spread of Coronavirus and the safety of caregivers and families. UrbanSitter's Trust and Safety team has prioritized Coronavirus prevention efforts and we're asking our members to be totally transparent with each other when it comes to their health. Additionally, UrbanSitter has dedicated resources to implement new tools and features to navigate care during this time.
Essential worker badges
UrbanSitter has implemented Essential Worker badges on job posts to highlight the needs of essential workers. The badge will identify families who have self-identified as essential workers per their local government, such as health care providers, grocery store employees, and government workers. While posting a job, families can indicate that they are an essential worker and add COVID-19 related screening questions for sitters to answer, such as Would you be willing to have your temperature taken upon arrival at our home?

Sitters will see the purple cross badge on a family's photo on the Job Board as seen here:


Willing to work with one family
In the Rates section of the sitter profile, sitters can now select if they're willing to work with one family exclusively, given a weekly hours commitment. Working with one family as part of a "quaranteam" may be a good option for sitters who wish to minimize their risk but secure income.

Guaranteed hours
Some families may feel comfortable working with just one sitter during this time, but don't want to limit their sitter's job opportunities. To keep sitters supported, families can indicate on their part or full-time job post they're willing to commit to a guaranteed minimum number of paid hours per week. With all compensation and care arrangements, we encourage members to engage in clear and fair communication so both parties' needs are met.

Virtual care
With school closures and shelter-in-place orders, many families are juggling working from home or in an essential service industry, homeschooling, and entertaining their children. Virtual care or remote babysitting has become a viable option for some UrbanSitter families! Sitters can indicate they're willing to provide virtual care on their profile in the Special Situations section or in their About Me. Get to know some of these sitters here!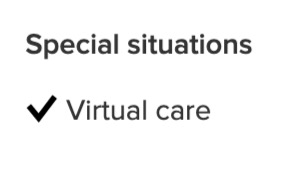 To start searching for remote babysitting services, we suggest families post a job detailing your expectations of a sitter. Please note that an adult is required to be present with the children, in-person, during remote babysitting sessions. Read here for virtual care guidelines and tips and please tell us how your job goes here!