Families who use FSA benefits in accordance with UrbanSitter pay their caregivers for each booking via credit to maintain accurate and verifiable records of caregiver payments. At the end of the year (or benefit period), families are then welcome to download a spreadsheet detailing their booking and payment history right from our website! When booking, make sure to select the payment method credit card. To learn more about how payments work on UrbanSitter, read our FAQ: How do I pay caregivers?
To do so, access your UrbanSitter account on the website > drop-down menu > Transactions > click "Print-friendly view" > follow your internet browser's instructions to print the page. Please note that your transaction history will include all completed caregiver payments via credit card as cash payments are not verified by UrbanSitter.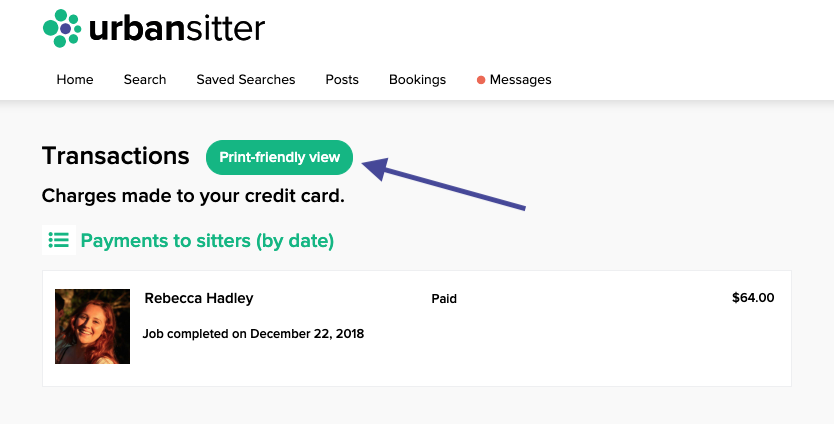 Please note that when it comes to end of year taxes or FSA reports, we share UrbanSitter's records or EIN in correlation to the fees paid directly to UrbanSitter. It is our understanding that to claim caregiver hours and the payment made for tax or expense purposes, you will need to obtain the SSN of the caregiver. Each caregiver would need to provide that to you on an individual basis. For more information and resources on filing your caregiving taxes or claiming care expenses for your FSA, please feel free to review this blog article at any time. Also, some families on UrbanSitter have successfully synced their FSA debit cards with their UrbanSitter account to pay caregivers through our online payment tool. Again, these types of cards each come with their own unique set of restrictions and we encourage you to contact the card provider for details and view our card criteria here.