Found your perfect dog walker, or sitter for after-school pickup? Looking to book a house cleaner for multiple dates throughout the summer? Families can easily book their regular caregiver for multiple jobs on UrbanSitter.




Once you've found a caregiver you're planning on booking for a recurring job, you can easily send multiple booking requests at once. Simply select the days of the week and start/end times for each day, and send off your requests - the caregiver will be able to accept or decline each individual booking, and you'll be notified along the way.
Each booking can be paid via cash or credit - your choice. If you pay via credit, you'll love this tool. You can easily set up recurring bookings to pay your caregiver per job, per week, every 2 weeks, or however you've worked out your payment schedule.
Here's some helpful information to guide you through our new tool:

To get started, access your caregiver's profile and begin the booking flow - when prompted, select the option to indicate you'll need the caregiver for multiple bookings. Then choose the date range of your bookings, as well as the days of the week you'll need care for and hours per day. Click Next, confirm dates to continue.
In this example, he's looking for childcare Mondays, Wednesdays, and Fridays from noon - 4:00 pm starting June 3rd and ending August 2nd. Please note the date range of your multiple booking requests can span a maximum of 12 weeks.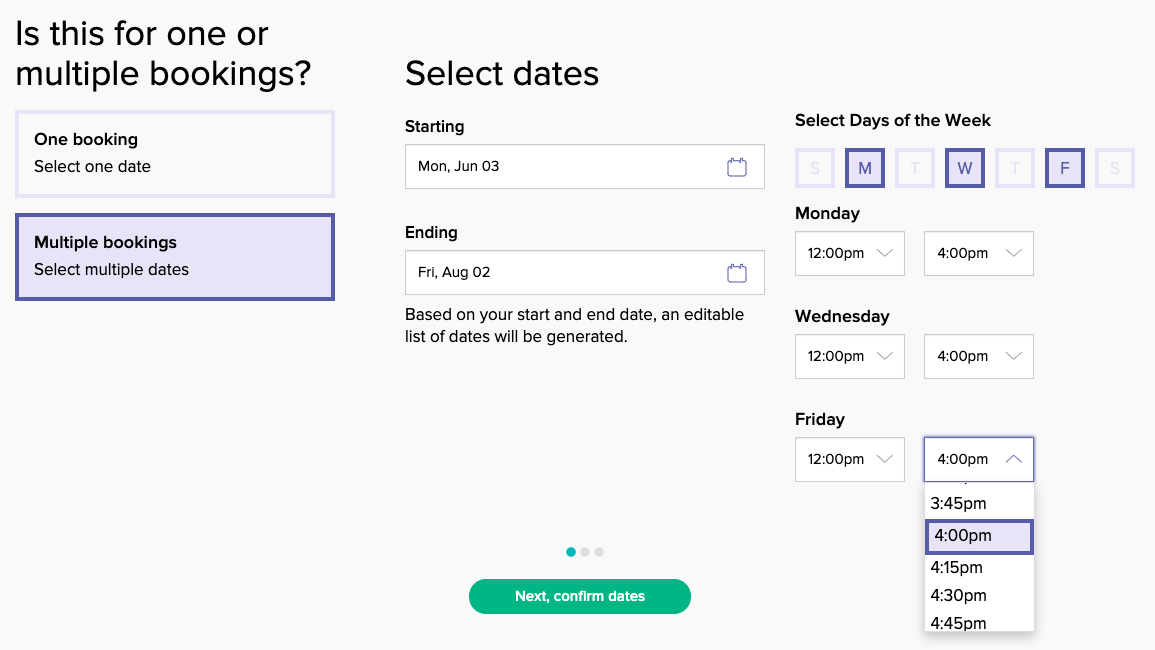 On the next screen, you'll see a list of proposed booking requests generated from your selections on the previous screen. In case your family doesn't need care for certain dates in this list, you can deselect individual jobs so your caregiver won't be sent requests for those dates. Click Next to continue.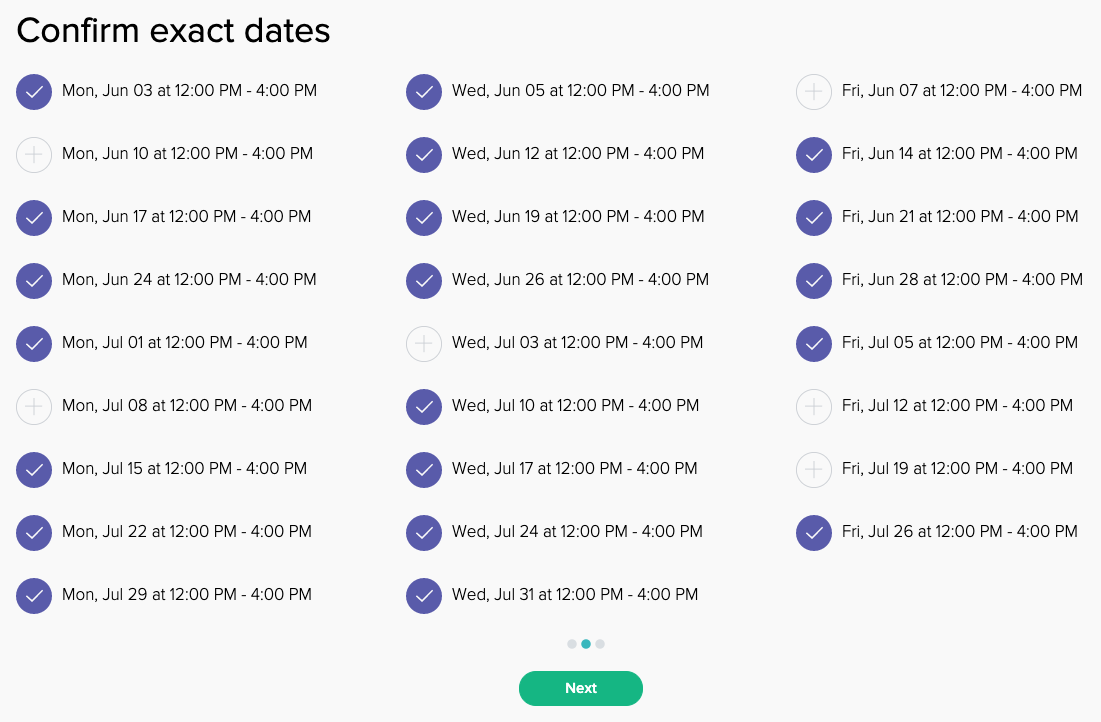 Then you'll see an overview of your recurring booking request and be able to edit any of the job details before sending - such as the rate, payment method, and number of those receiving care, as well as add a job description, profile picture (if you don't already have one!) and special circumstances and perks of the job. Finally, click Book and your requests will be sent.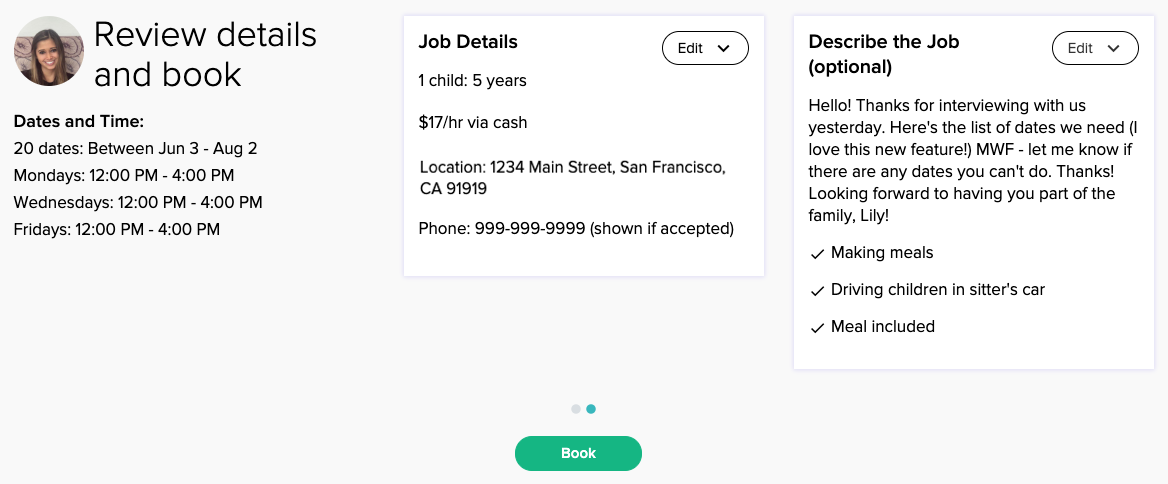 Your caregiver will be able to accept or decline each booking request and as they come in you'll be notified via email and/or app push notification. In regards to payment, each booking will be like a traditional one-time job booking - if you're paying via credit card, your caregiver will be prompted to confirm their hours worked at the job's scheduled end time. Learn more about paying caregivers via credit card here.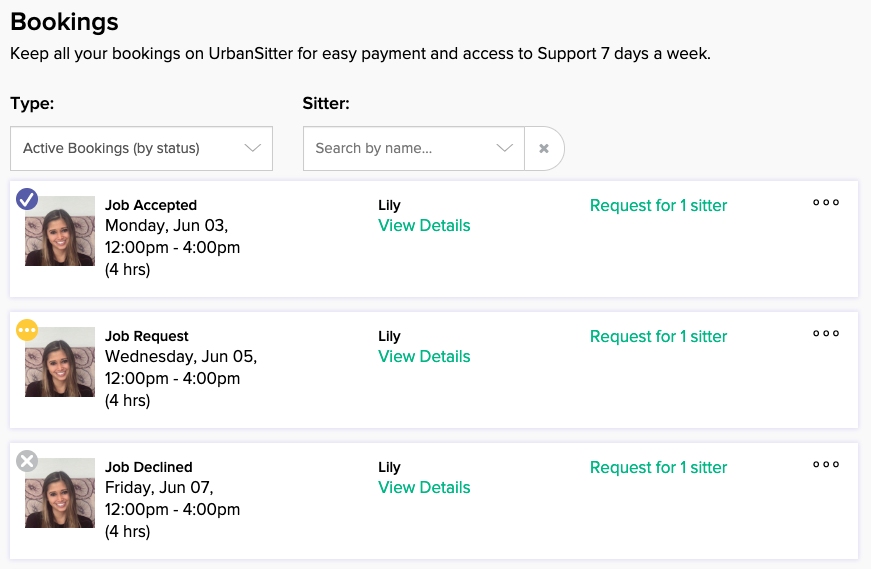 If you have any questions or need any help along the way, please feel free to email our Member Services team at support@urbansitter.com. Best of luck on your search!