We share a deep concern for the spread of Coronavirus and the safety of caregivers and families. UrbanSitter's Trust and Safety team has prioritized Coronavirus prevention efforts and we're asking our members to be totally transparent with each other when it comes to their health. Here we have gathered resources and guidelines for members of the UrbanSitter community, as well as implemented new tools and features to navigate care during this time.

Communication guidelines
We encourage open communication regarding family and sitter health status. So, as always, if a child, a family member or caregiver is sick or has a fever, please disclose this information, with symptoms and relevant doctor information, to the other party so that families and caregivers can make informed decisions on whether to cancel a job.
For the safety of the UrbanSitter community, and following CDC guidelines, UrbanSitter has informed our members that jobs should be canceled if a caregiver or anyone in the family they are working for has a known exposure to COVID-19. Additionally, jobs should not be posted and booking requests should not be sent if a family member fits that criteria as well.
We will not be penalizing families or sitters in the event of a cancellation due to COVID-19 to ensure that all parties feel supported in putting their own and their community's health first. If you do find yourself needing to cancel a booking due to COVID-19, please proactively email our team at support@urbansitter.com with an explanation for your cancellation so that we can update our records accordingly. Additionally, we ask that you send a message to the other party citing your reason for canceling as a courtesy to the other member.
For more tips and best practices for hiring care during COVID-19, view our blog post!
Recommendations
We are recommending members to follow CDC guidelines below. As relevant information becomes available and CDC recommendations evolve, we'll be sure to update this FAQ and proactively communicate the information to our community.
As far as precautions, the CDC recommends that people should self-quarantine for 14 days if:
You have been in contact in the last 14-days with someone diagnosed with COVID-19
You have traveled to a CDC-designated level 2 or 3 area in the last 14 days
Jobs should be canceled if a caregiver or anyone in the family they are working for fits into one of the above categories. Neither party will be penalized for COVID-19 related cancellations.
The CDC also recommends the following steps to protect yourself and other family members:
Get your flu shot to protect against flu or symptoms similar to novel coronavirus.
Wash your hands with liquid soap and water, and rub for at least 20 seconds.
Cover your cough or sneeze.
Stay home if you are sick, and keep sick family members at home until symptoms resolve.
If you are receiving or providing Senior Care, please take a moment to review the CDC's guidelines for older adults as the risk for severe illness from COVID-19 increases with age with older adults at the highest risk.
As the situation is changing rapidly, the CDC and local department of health websites are great sources for the most up-to-date information and recommendations.
New tools to support families and sitters
Essential worker badges
UrbanSitter has implemented Essential Worker badges on job posts to highlight the needs of essential workers. The badge will identify families who have self-identified as essential workers per their local government, such as health care providers, grocery store employees, and government workers. While posting a job, families can indicate that they are an essential worker and add COVID-19 related screening questions for sitters to answer, such as Would you be willing to have your temperature taken upon arrival at our home?

Sitters will see the purple cross badge on a family's photo on the Job Board as seen here:


Willing to work with one family
In the Rates section of the sitter profile, sitters can now select if they're willing to work with one family exclusively, given a weekly hours commitment. Working with one family as part of a "quaranteam" may be a good option for sitters who wish to minimize their risk but secure income.

Guaranteed hours
Some families may feel comfortable working with just one sitter during this time, but don't want to limit their sitter's job opportunities. To keep sitters supported, families can indicate on their part or full-time job post they're willing to commit to a guaranteed minimum number of paid hours per week. With all compensation and care arrangements, we encourage members to engage in clear and fair communication so both parties' needs are met.

Virtual care
With school closures and shelter-in-place orders, many families are juggling working from home or in an essential service industry, homeschooling, and entertaining their children. Virtual care or remote babysitting has become a viable option for some UrbanSitter families! Sitters can indicate they're willing to provide virtual care on their profile in the Special Situations section or in their About Me. Get to know some of these sitters here!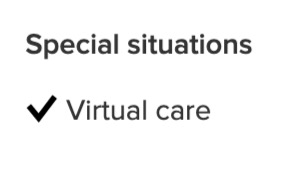 To start searching for remote babysitting services, we suggest families post a job detailing your expectations of a sitter. Please note that an adult is required to be present with the children, in-person, during remote babysitting sessions. Read here for virtual care guidelines and tips and please tell us how your job goes here!
Shelter-in-place orders and childcare
As shelter-in-place orders begin to lift, some families have felt most comfortable booking the same sitter for childcare consistently or have asked sitters to shelter-in-place in their home with their family. Please note that this may vary across the country and your county may have different guidelines for childcare than others.
Please take a moment to access your county's government website for specific instructions. If you have additional questions about your specific circumstances, we recommend calling 311 or your city's information center directly.
You can also find information about your area here:
Stay healthy!