To purchase an UrbanSitter gift card, please contact support@urbansitter.com.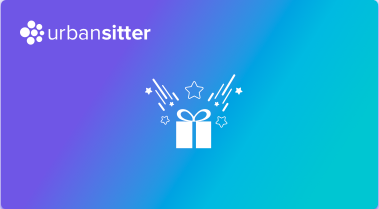 Gift card credit purchased through the UrbanSitter website does not expire. Promotional gift cards sponsored by UrbanSitter do expire and will have an expiration date on the back of the card.

Subject to UrbanSitter, Inc.'s Terms of Service. Recipient must become a registered user of UrbanSitter with valid credit card on file to redeem gift card. May be used toward caregiving services, membership plans, or fees. Restrictions include caregiver availability, caregivers who accept online payment, and service to requested location (not all areas served).
When the gift card is redeemed, UrbanSitter credit will be applied to the recipient's subsequent UrbanSitter transactions until their credit balance reaches $0. If a transaction exceeds the recipient's UrbanSitter credit amount, the balance will be charged to the credit card on file with the recipient's UrbanSitter account.
Not redeemable for cash. No refunds, returns, or exchanges. Non-transferable once credit has been placed in User's account. UrbanSitter is not responsible if an UrbanSitter gift card is lost, stolen or used without permission. UrbanSitter reserves the right to modify these terms.