Your profile photo is often the first impression a parent will have of you as a potential sitter for their family. It is important to have one that is friendly and inviting. Putting a little effort into finding a great photo will help set you up for success and get your profile approved faster!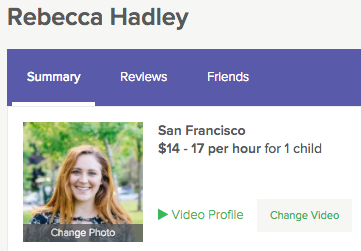 We require all sitters to have an acceptable profile photo in order for their profile to be approved and visible to parents. Profile photos should clearly identify the sitter and not include anyone else besides the sitter. Use a current photo of yourself that you feel accurately represents who you are today.
Listed below are some Dos and Don'ts to help you choose a great photo for your profile.
Do:
Choose a photo that is friendly and inviting - a smiling headshot is perfect!
Select one that is clearly identifiable, and not taken from too far away - the parent should be able to identify you in person based on your photo
Pick a well-lit photo that shows your entire face, chin to forehead - avoid wearing sunglasses or hats (religious or cultural headwear is permitted)
Choose one that is well-lit and allows parents to see your eyes - we recommend a close-up photo
Pick one which presents you as you would appear to parents - show off your personality!
Examples of great profile photos:

Don't:
Don't include other people in the picture - such as children, family members, etc. Pets are okay as long as it's mostly you in the photo
Don't choose a picture where you are partying or doing something controversial - we recommend choosing a professional photo
Don't be too far away in the picture - parents won't be able to recognize you if you're too far away!
Don't choose a photo where you look significantly different from how you do today - i.e. no yearbook photos. A current photo is best!
Don't choose a photo that has heavy filters or is taken from a drastic angle - don't let elements of the photo distract parents from you!
Don't choose a photo where you're wearing a face mask.
Examples of not-so-great profile photos that won't be approved:

To add or update your profile photo:
Login to your UrbanSitter account via the web, iOS app, or Android app
Navigate to your profile
Click 'Change Photo'
Pick a new photo from your gallery or computer files - you may need to enable permission for the UrbanSitter app to access your photo files.
Review your profile to admire your new profile picture!


Need to finish completing your profile for approval? Find more FAQs here.