At UrbanSitter, finding care shouldn't be a hassle, and we understand caregiver reliability is essential in the vetting process. Caregivers with a low cancellation rate earn a reliability badge on their profile, seen here: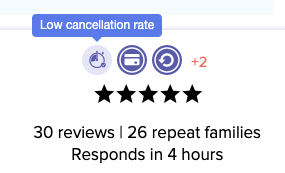 Caregivers with this badge have successfully completed 90% (or more) of bookings they've accepted on UrbanSitter within 30 days of their most recent job, without any cancellation or reliability concerns. The badge may be removed if the caregiver's reliability falls under the above requirements.

We also recommend looking for caregivers with multiple repeat families, a fast response time, a recent last active timestamp, and a recent update to their job-seeking status or calendar. These are all signs that a caregiver is reliable, active, and ready to meet new families!
To maintain a reliable and trustworthy experience for all, UrbanSitter takes corrective action on caregivers with reliability concerns in accordance with our Reliability Policy. While we recognize that life happens, caregivers are expected to follow through on their booking commitments and are subject to removal from the platform if they don't meet this expectation. Please feel free to review our policy in full for additional details.