We made it easy - post a job and let the caregivers come to you. Caregivers who are interested and available will apply and you'll have a list of applicants to choose from to find the best caregiver for the job.
Posting a job
To post a job to the caregiver community, go to your Posts. This is where all your posts will live - open jobs and past jobs that are now closed.
Click Post a Job
Select care type: child care, senior care, pet care, or household services
Select time commitment: specific date and time, part-time (25 hours or less a week), or full-time (more than 25 hours a week)
Select # of those receiving care
Set job location, rate per hour, and payment method (cash or credit card)
Add tasks, perks, and any important details in the job description
Add optional screening questions
Click Post Job! to save and post to the caregiver community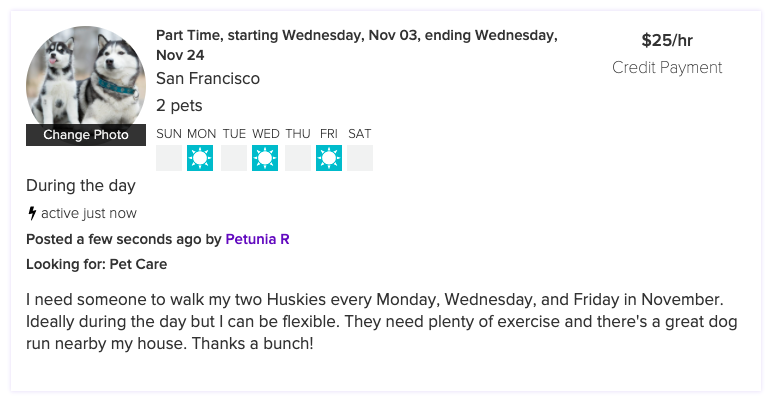 Browsing applicants and reaching out
Caregivers who are interested and available will apply to your job post. From your list of applicants, narrow them down with our filter and sorting options.
To reach out to a caregiver, you can message, interview, or book straight from your post. Click on their profile to learn more about their experience and read answers to screening questions. Favorite a caregiver by clicking the heart or click Pass to hide them from the list.


Tip: Make it simple and book a caregiver directly from your (one-time) job post so the job details will carry over.

Job post tips
Be detailed in your job post description to get more interest and find the best fit for your needs
Don't add any personal contact information (you can share it later)
Once your need is met, go back to the post and click to close it