If you've decided a caregiver isn't a fit for you or don't wish to work with them anymore, you can hide them from your search results and from viewing your job posts.
To hide a caregiver,
Go to their profile
Under Request a Booking, click the arrow button
Click Hide caregiver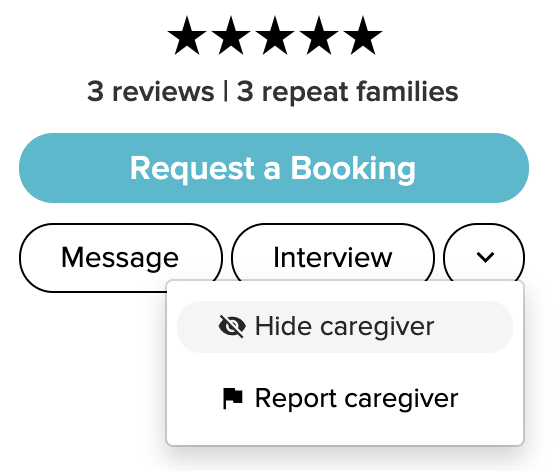 On the app, hide a caregiver from Search by clicking the

button > Hide Caregiver.

Caregivers you've hidden will no longer appear in your search results and they won't be able to view or express interest in your job posts. You can view all hidden caregivers here or go to Your Caregivers and filter by caregivers you've hidden. There you can also view your working relationship and add a private note. Caregivers are not notified that you have hidden (or unhidden) them and cannot view your private notes. You can unhide a caregiver at any time.
We encourage families to report a bad experience with a caregiver to Member Services, and you can learn about your options here.