General
You may see a banner at the top of your home page indicating that your profile is hidden. If you've previously had an active or unhidden UrbanSitter account but created a new one, we won't be able to approve your new profile as we don't allow sitters to maintain more than one account. 
If you are not able to access your active account, try resetting your password on the main home page, or view our FAQ for more information. If you no longer have access to the email address on your previous account, please feel free to email us to let us know. 
New Sitters
You've signed up for a sitter account, completed all of the sections of your profile, and submitted it for approval. Now what's next?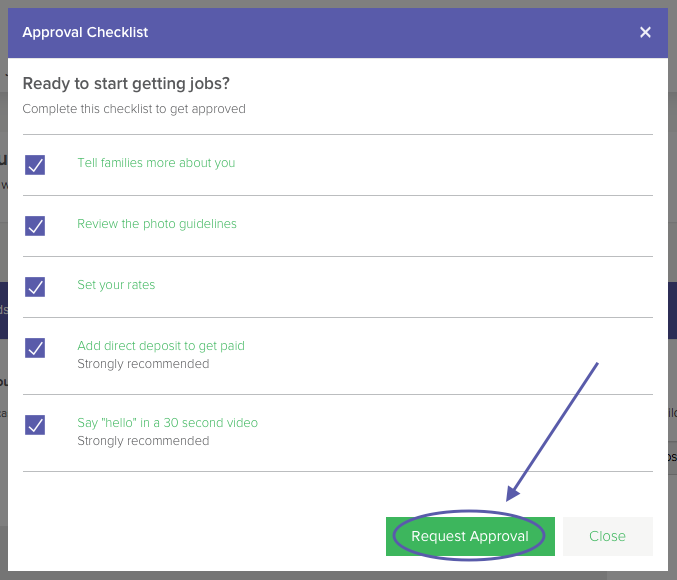 Your profile will be reviewed for approval before you can start connecting with families on UrbanSitter. Our Support Team does our best to review all sitter profiles within 7 days, however, it can take up to two full weeks.  
Want your profile to be fast-tracked? Make sure to upload your profile video and direct deposit information and your profile will be reviewed with priority, generally less than 7 days!
Until your profile is approved, it will be hidden from parent search results and you will not be able to express interest in jobs.
*Please make sure that you have access and regularly check the email address associated with your UrbanSitter account, as we will notify you of your profile status at that address!
After you've submitted your profile for approval, you will see one of these banners at the top of your home page:
You've submitted your profile for approval and our team will review it as soon as possible. 

An essential section of your profile is incomplete, so it could not be approved. 

Review our Photo Requirements and upload a new picture to your profile. 

Your profile is currently being reviewed. Hang tight! We appreciate your patience :) 
Our Support Team will review your sitter profile to make sure it best promotes your sitter skills and personality, while meeting our Terms of Service. A completed profile includes the following:
A profile Photo which clearly identifies you and does not include anyone else. This is often a parent's first impression of you as a potential sitter! Check out our How To Select And Upload A Great Profile Picture FAQ
A written About Me statement where you share your education and sitter experience as well as a few other fun facts about you. This is where parents will get to know you! Feel free to review our About Me guide: What are parents looking for in an About Me?
Your Babysitting Rates which indicate your minimum and maximum rates per hour
Add your Location and Work-in Locations information to let parents know where you're willing to work. This is key for showing up in search results and viewing jobs on the Job Board!
An introductory Video which showcases your personality and experiences as a babysitter. For more information, check out our Profile Video FAQs *optional, but strongly recommended!
Your Direct Deposit information to receive payment from parents via credit card and express interest in credit card jobs *optional, but strongly recommended! 
While you're waiting for your profile to be approved: make sure to add availability to your calendar so parents will know when you can work once you're approved. Rest assured you will be notified via email when your profile is approved and becomes visible to parents!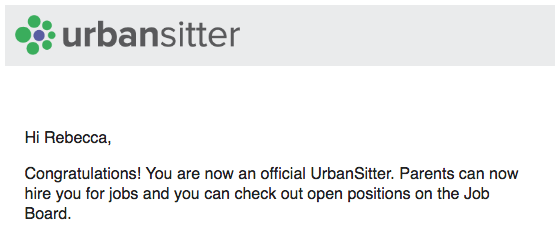 Already Approved Sitters
If your sitter profile has already been approved, your profile may be hidden temporarily or permanently if information comes to our attention that our Support Team needs to review and investigate due to a breach in our Terms of Service. You may see this banner at the top of your home page:

Investigations are completed in as short of a time as possible, however they can take up to two weeks to complete. We appreciate your patience while we do our best to foster and uphold the UrbanSitter community as the safest and most reliable & trustworthy marketplace for childcare possible!
Still have questions about your profile? You're always welcome to reach out to our Support Team by sending an email to support@urbansitter.com.