At UrbanSitter, our mission is to be the most trusted place for parents and sitters to connect for childcare jobs. To be an approved sitter on UrbanSitter, sitters are required to have an active membership and a cleared background check. Membership is $24.95/year and there are no other fees or charges - sitters keep 100% of their booking payments. 
Read on to learn more about what's included in membership and the benefits of joining UrbanSitter!
What's included in my membership?
The annual sitter membership allows you access to all of UrbanSitter's booking, messaging, and payment tools so you can find, schedule, and get paid for babysitting jobs. Membership also comes with a required background check that's necessary for sitters to clear in order to start booking jobs. Sitters apply to jobs on the Job Board and message with parents to set up interviews and job bookings - and get paid via direct deposit through the site. Learn more about how getting jobs on UrbanSitter works here. 
Your membership comes with a required background check and badge for your profile when you pass a third-party check with our safety partner, Evident ID. Membership also offers assistance with any booking, payment, or trust & safety issues from our dedicated Member Services team. 
The annual membership comes at a fee of $24.95 and unlocks a full year of membership benefits with no additional fees. All booking payments go directly to the sitter - UrbanSitter does not take a cut of your pay.
How do I purchase my membership?
While accessing UrbanSitter.com or the UrbanSitter app, click the Purchase Membership button on your homepage then enter your credit card details to buy your membership plan. The annual membership comes at a fee of $24.95 and is non-refundable.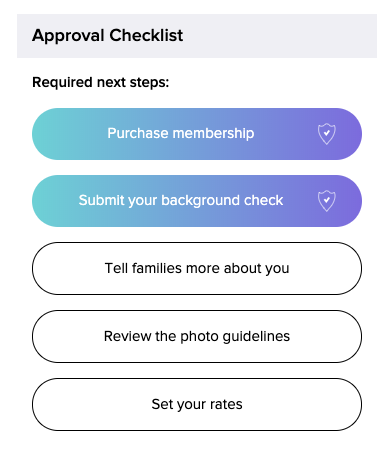 After you successfully purchase your membership, follow the steps to submit your background check information to our check provider, Evident ID. You'll also be emailed instructions to begin the background check. Communication will be sent to the email address on your UrbanSitter account, so make sure to double-check that yours is accurate on your Settings page.  

Once your information is submitted, Evident ID will process your background check. Once completed and cleared, you'll earn a background check badge on your sitter profile that's good for the length of your membership. 


Has a family offered to pay for your membership? Ask them to tip you the cost or email support@urbansitter.com to pay directly.
 
What will the background check cover?
Background checks are processed by our third-party safety partner Evident ID and include the following:
SSN Trace

Nationwide Sex Offender Registry Check

Global Watchlist Check of terrorist, sanction, and other watchlists

National Criminal Search for history of felony and misdemeanors

Progressive county searches based on adverse records
Evident ID reports available criminal records dating back 7 years in accordance with federal law and the industry standard for background check lookback periods.
You'll need to provide your social security number to complete the background check, and Evident ID will take care of the rest. Background checks are typically processed within 2-3 business days. Once cleared, a background check badge will display on your sitter profile for one year from your membership purchase date.

If you haven't submitted your background check within 30 days of purchasing your membership, the link will be expired. Email us to get your new link. To request a copy of your background check results, learn more here. 


How do I become approved?
If you're a sitter new to UrbanSitter, you need a complete profile, active membership, and a cleared background check in order to be approved to start booking jobs. Once you have all the requirements and completed the steps on your Approval Checklist, your profile will be submitted for review by our team. When approved, your profile will be up and ready to connect with families! Learn more about sitter profile requirements and approval here.
If you're an active sitter who was previously approved on UrbanSitter, you'll need to meet these requirements to keep your status on UrbanSitter. Without a membership, your profile will be hidden from new families. You will be able to continue messaging parents you've already been in contact with, but you will not be able to schedule bookings or find new opportunities on the Job Board. Your profile information, booking history, and reviews will still be available. 
If you do not clear the background check you will be notified via email as well. Your profile will be closed and you will no longer have access to UrbanSitter.

Please note that all bookings and associated credit card payments scheduled before November 1st, 2019 will continue as expected, regardless of your status. 


Will I need to renew my membership? Can I cancel? 
To check the status of your membership plan, go to your Settings page and navigate to the "Next Billing Date" section of Account Basics. 
If there is no next billing date ("

None

") this means your membership is not set to renew and will expire at the end of your billing cycle. The end of your billing cycle is one year from the date you purchased your membership. You can review this date on your

Transactions

page under Plan fees or by hovering over your background check badge. Once your membership expires, you'll be able to purchase a new year of membership at any point!

If there is a date listed (i.e. "

September 16, 2020"

) this means your membership is set to automatically renew on that date (the end of your current membership's billing cycle). Your card on file will be charged the membership fee and you'll be granted another year of membership. Renewing memberships can be canceled anytime.

See instructions below.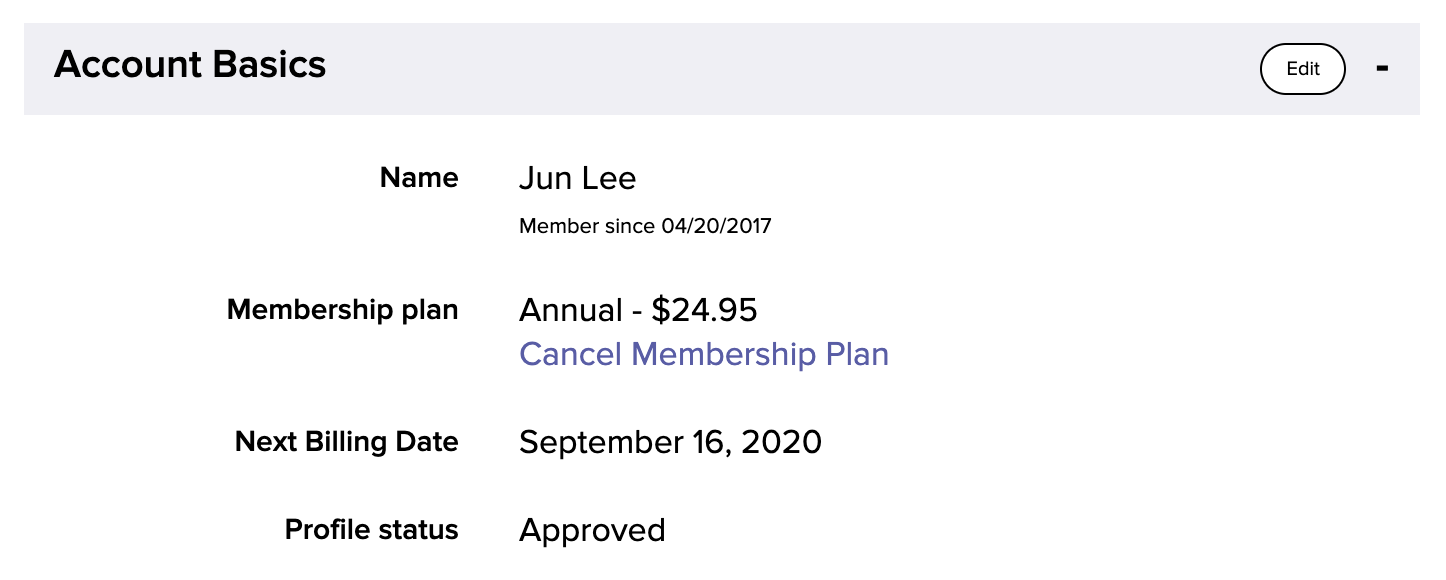 Each new year of membership will come with a new background check that sitters are required to clear in order to stay active on UrbanSitter. Without an active membership and cleared background check, you will lose access to UrbanSitter tools and your profile will be hidden. Rest assured we'll send you a notification reminding you to re-purchase your membership before your membership expires.   
To ensure you don't lose access, you'll be able to purchase your next year of membership and begin your new background check during the last month of your current membership cycle. Since background checks can take 2-3 business days to process, this will give you enough time to ensure your background check is completed and cleared before your current membership expires so your profile doesn't get hidden. 
We recommend purchasing your new membership early to allow for uninterrupted access to UrbanSitter. Rest assured that even if you do, you'll still receive a full year of membership benefits and your next membership cycle will not begin until your current cycle ends. 
Take fellow sitter Sarah's example: Sarah purchased her membership on November 15, 2019 and sees that it's set to renew on November 15, 2020. After October 15, 2020, Sarah gets a notification reminding her that her membership is going to renew soon, and because she doesn't want her profile to be hidden, she purchases her next year of membership that day. Sarah then submits her information and her background check clears the next day. On November 15, 2020, her membership renews - and with a new year of membership and new, cleared background check, Sarah's profile stays active and unhidden. Although Sarah was able to purchase her next membership and begin her new background check early (during her current membership cycle), she will still have a full year of membership benefits from November 15, 2020 to November 15, 2021. Success! 
 
If you don't wish for your membership to continue, you can cancel at any time before the end of your billing cycle. Your membership will remain active until the end of your billing cycle and won't automatically renew. To cancel, go to your Settings page and navigate to "Membership" in the Account Basics section, then click Cancel Membership Plan > Yes. However, without an active membership and cleared background check, your sitter profile will be hidden and you won't be able to access the Job Board, new families, or any of our booking, messaging, and payment tools. 
 
What if I already paid for a background check through UrbanSitter? 
Sitters who purchased and passed a background check prior to August 29, 2019 have received a free membership until one year after their background check cleared. Each sitter who qualifies for a free membership has been notified via email with their specific date. We want to ensure that sitters who have already invested in their account by purchasing a check in the past are not required to make another purchase within the same 12-month period.
If you had previously purchased a background check during the period of the 3-year background check badge, please email Member Services to receive a free membership each year through your 3-year term. Please note you will be required to complete and clear a new background check each year to retain your membership and access to the site. 


What do I do next?
When you're ready to get started with UrbanSitter, create your sitter account then begin filling out your sitter profile and browsing available jobs on the Job Board. 
We look forward to you joining the UrbanSitter community. Happy sitting on UrbanSitter! 
Please note that the UrbanSitter platform is a space for individual care providers to market their offerings and we require one profile per sitter. Our Terms of Service do not allow daycares, preschools, etc. We appreciate your cooperation.