After a completed booking, families on UrbanSitter have the opportunity to post a public or private review of their experience with the caregiver. Reviews comprise of a 1 through 5-star rating and an optional comment. Public reviews are visible on caregiver profiles, and private reviews are only visible to Member Services.
To post a review, navigate to the caregiver's profile > Reviews > Review Caregiver. You'll be able to select one to five stars, write an optional comment, and select the visibility setting as public or private. You can always return to your review and edit a portion of it at any time, and we encourage you to do so to reflect new experiences! Families can also review caregivers who canceled a job from the canceled booking page. If you have not booked the caregiver through UrbanSitter, you will not be able to submit a review and would instead be submitting a recommendation.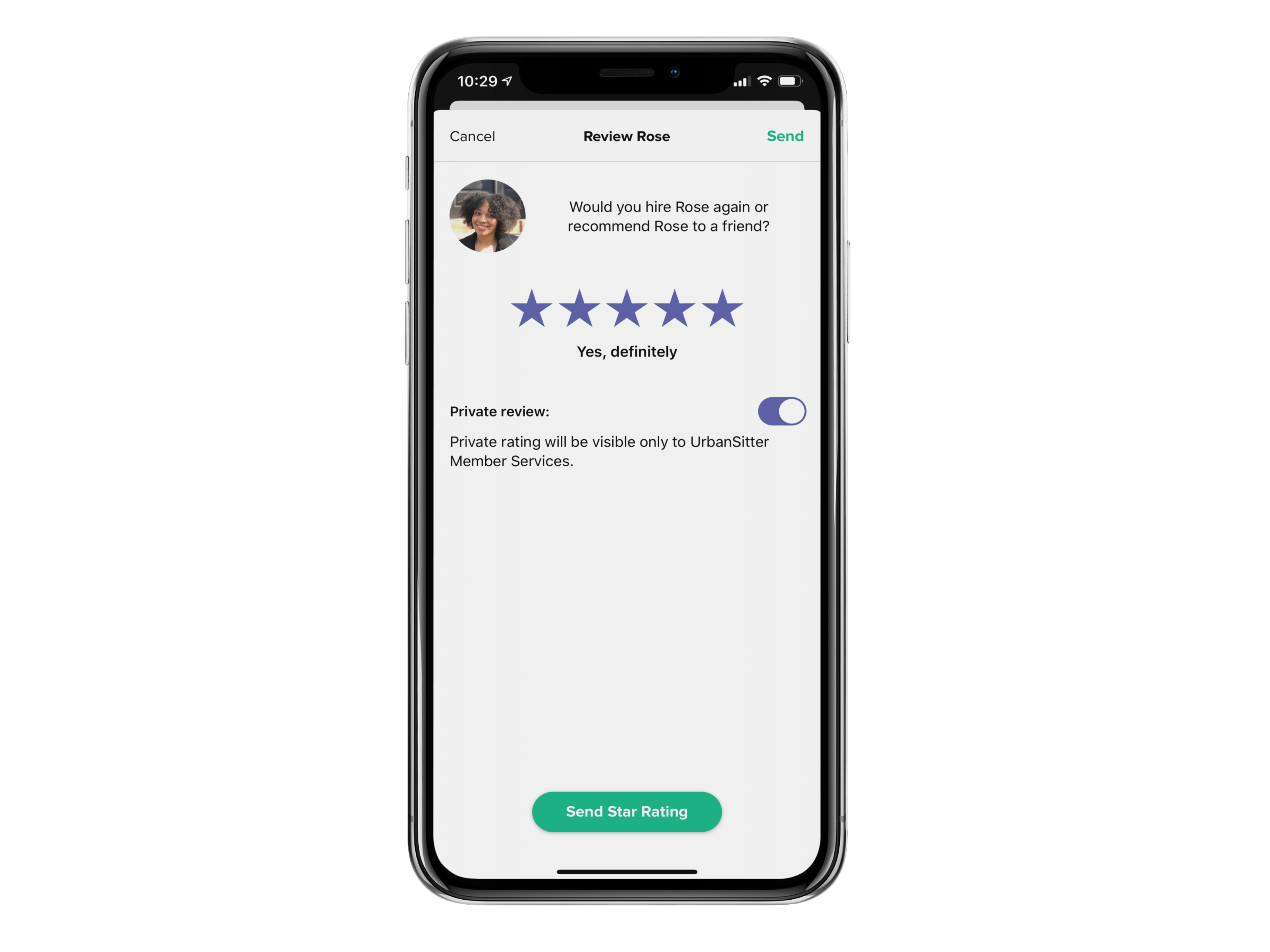 UrbanSitter's review system was created to be as transparent as possible for all public and private reviews, one to five stars. By posting honest public reviews, families can benefit from other experiences to make educated decisions when browsing and vetting potential caregivers. Positive, encouraging reviews of a caregiver's impressive performance go far to build up their profile and provide other families valuable insight into that particular caregiver. If you don't wish for your review to be public, you can change the privacy setting to Private so it's only visible to you and UrbanSitter.
All reviews should adhere to our Review Guidelines and report accurate, unbiased experiences. When writing a review, you must be:
Genuine: base your review off of your firsthand experience and not hearsay. Criticism should be constructive and not spiteful.
Factual: explain what happened and do not use exaggerations, generalizations, or assumptions.
Thoughtful: provide useful information about the caregiver's behavior, demeanor, and performance so fellow families can make fair, educated decisions.
To uphold the integrity and trust of our community, caregivers can publicly respond to reviews on their profile and may contest those they deem to violate our guidelines. UrbanSitter does not censor or hide negative reviews that may be detrimental to a caregiver's reputation but does remove reviews that violate our guidelines.
Families or previous employers not on UrbanSitter also can post recommendations for caregivers that appear as 5-star reviews. Learn more here!