You can use the Sitter Search tool to browse sitters in your area who are background checked, available for a certain time, close to your neighborhood, and those with specific experiences and qualifications. If you see a sitter who looks like a good fit for your family while searching, you can click their profile picture to see their full profile, availability calendar, and reviews - or send them an Interview request, Booking request, or introductory message by clicking the grey and green buttons to the right of your screen. 
This parent is searching for a sitter who is available full-time, lives less than 10 miles away, and has experience with Autism. She'll also be able to see when this sitter is generally available. Don't see a match? Post a job to the Sitter Community!
Next, filter and sort your results to fine tune your search for the perfect sitter. 
Need a sitter for an evening out, an after school sitter, or full-time nanny?  Filter by sitter 'Type' in the top left corner. You can also sort your results by best match, lowest rate, most reviews, connected to you by your friends and colleagues, or closest distance. Click 'Sorted by best match' to view the other sorting options, then select an option.
Need a sitter who is available for a certain date and time? When searching by type: Evening Out, Last Minute, or Other Date/Time, enter the date you need a sitter next to 'Available on:' then select the specific time. Now only sitters available for that time will appear in your results.



Under 'More Filters', you can update your search location and filter by sitters who live a certain distance from you. You can also adjust your results to show sitter's rates per child and filter by maximum rate. Looking for a sitter who has infant experience, is willing to drive kids, speaks Mandarin, or has experience with behavioral challenges? Filter your results by over 20 different languages and 20 types of special experience in the 'Works with', 'Languages', and 'Experience with' sections. Finally, click the badges to filter sitters by those who are willing to drive kids, have a car, respond quickly, or have been background checked.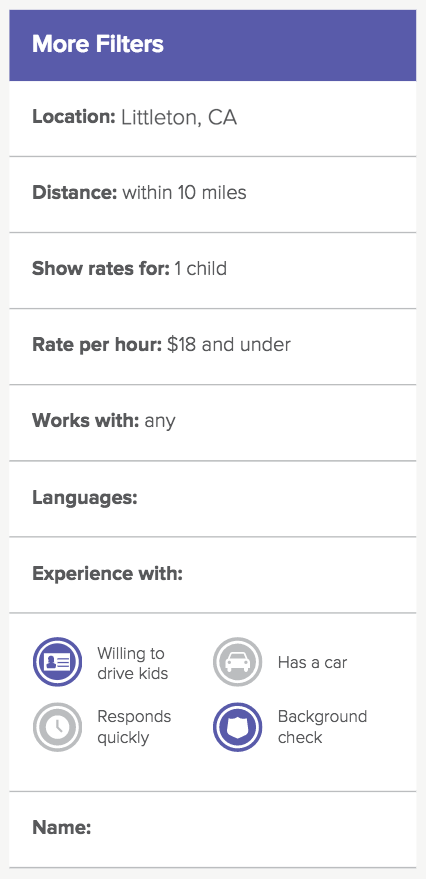 To learn more about searching for sitters by name, check out our How Do I Search For A Sitter By Name? FAQ.