If you currently have a caregiver that your family works with, they can join UrbanSitter, and then you can use your corporate care credits to pay them. To do this:
Step 1:
Have your caregiver sign up for UrbanSitter and create an account including:
A profile bio or

About Me

A

profile photo

that clearly identifies them and does not include anyone else

Their babysitting rates

Add

location
Direct deposit

information to receive payment from parents via care credits
Step 2:
Your caregiver must purchase a membership and complete a background check: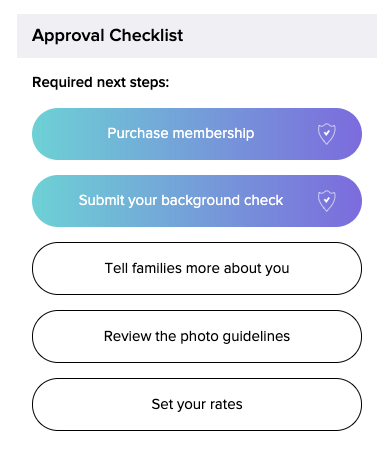 Caregivers annual membership fee includes their background check

Information about completing their background check and profile approval status will be sent via email to your caregiver.
Step 3:
Wait for your caregiver's profile approval and then you can book them!
Once a caregiver completes a background check, it may take anywhere from 3 - 5 business days for results to come in.

Background checks may be delayed if conducted in certain counties that require manual record searches.

After their background check is complete, most profiles are approved within 24 hours.

Once approved, your caregiver's profile will be visible and you can send them a booking request.

When creating a booking request, make sure to select 'credit card' as the payment method. Your credits will be used first and your credit card will only be charged if you don't have enough credits.