If your benefit includes care credits, use them to pay caregivers on UrbanSitter for their services! To learn more about your benefit and confirm your care credits details, go here. We encourage you to become familiar with your benefits and credits as you enroll to ensure successful payment processing.
You can view your care credits on your Credits page by clicking on your profile picture > Credits in the drop-down menu. On the UrbanSitter app, tap more > Account > Credits. There you can see how much credit you currently have available, what care types it applies to, and when it expires.

Eligible employees can transfer available care credit to buy online classes and tutoring on Outschool. Learn more here!

How to start
To start using your credits,
Add a card to your account. We need a credit card on file before being able to book. Available care credit will always be used first towards caregiver payments, and any remaining balance will be charged to your card. Learn how to add your card here.
Book jobs via credit. Click Book from a caregiver's profile to schedule jobs and make sure to select the credit card (not cash) payment method to be able to use your credits.

If your benefit includes bringing on your own caregiver, have them sign up and add their direct deposit information to be able to receive credit payments. Learn more here.
How paying with credits works
When your booking ends and it comes time to pay, your available credits will automatically apply towards the service total. Make sure to submit your payment before your credit's expiration date so it successfully applies! Here is what to expect:
The caregiver confirms hours worked and you are notified
Go to the booking page and click Confirm hours and pay
Review payment total and see available credit applied
Add optional tip and message
Click Continue then Yes, Confirm Payment
Credit is deducted from your available credits and any remaining balance is charged to your card
Caregiver receives payment via direct deposit!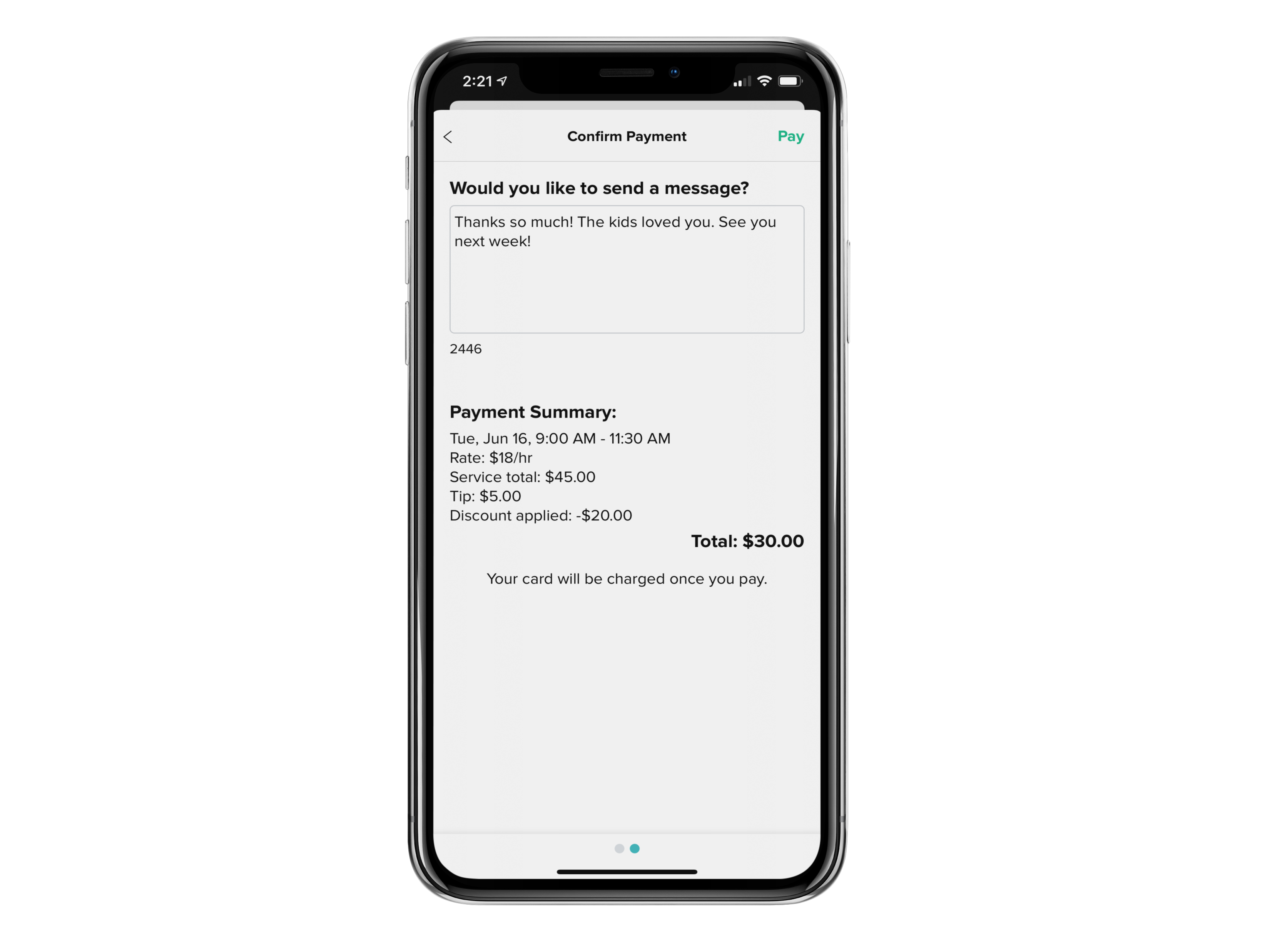 You can view completed payments, including how much credit was applied, on your Transactions page under Booking Payments. On the web, click on your profile picture > Transactions in the drop-down menu. On the UrbanSitter app, tap more > Account > Transactions.

If you have any questions or concerns about a caregiver payment or available credit, email Member Services as soon as possible so we can take any necessary actions. For more information about how payments work, feel free to visit this FAQ.